Thoring Productions specializes in producing theatrical works for children and adults.

The family-oriented productions Hupshj! and Rosa Lyseblå (Pink Light Blue) were both created with the intent to present the audience with worlds that are musical, playful, poetic - and filled with humor. These works incorporate live music, and musicians' presence and movements were conceived as intergraded elements within the production: the physicality of all of the performers is just as expressive of the overall concept as the costumes and scenography.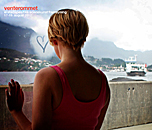 Venterommet (the Waiting Room)
Direction: Ragnhild Thoring
Author: Inger Bråtveit
Art: Serina Erfjord
Vocalist: Åshild Vetrhus
Saxophone: Erik Nerheim
Actors: Birgit Nerheim, Elin Gunnarsdotter Sandvik, Annelise Grindheim and Marte Sæteren
Dancer: Gerd Elin Birkeland
Radiodager (Radio Days)
Tour in 2010 – 2011 in Norway
Concept and direction: Ragnhild Thoring
Actor: Elisabeth Dahl
Musician: Bjarne Christian Berget Bjørnstad Gustavsen.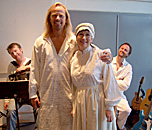 Markens Grøde og Glædens Muntre Sang (the Field's Cheerful Song)
Tou Scene 2011
Direction and manuscript: Ragnhild Thoring
Musicians: Johan Egdetveit and Alexander Flotve.
Actors and singers: Sture Mønnich, Rønnaug Foss Alsvik and Lars "Atlars" Tønnesen.
Coreography/dancer: Lene Aareskjold.
Producers: Sive Skretting and Tou Scene.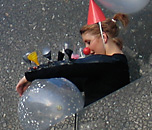 Event - new factory opening – Haaland AS
22. august 2009 at Vigrestad
Concept and direction: Ragnhild Thoring
Participants: Four theatre and dance students.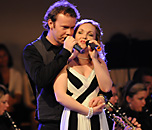 Chess - the concert version
April 23—26, 2009
Direction: Ragnhild Thoring
Participants. Klepp Wood Winds Orchestra, Roald Haarr, Nils Erik Steinsbø, Ingrid M. Kjosavik, Anh Vu, Bjarte Lending.
Venue: Klepp Rådhus (Town Hall)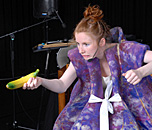 Rosa Lyseblå (Pink Light Blue)
Rosa Lyseblå (Pink Light Blue) uses music, sounds, color and movement to lead even the youngest members of the audience on a journey of discovery.
Pink Light Blue is a girl who creates a magic space in which anything can happen. Pink Light Blue's playful actions create small, dramatic moments. She explores her own voice and creates a unique language that speaks to the children who watch and listen.
Appropriate for children ages 0 – 6. Duration 30 min.
Concept/Manuscript/Direction: Ragnhild Thoring
Scenography/Costumes: Tove Sundt-Hansen
Seamstress: Jane E. Norderhaug
Choreography: Hanne Omdahl Tresselt
Performers: Stine Janvin Motland – movement/sound; Beate Iversen - marimba.
The performance was developed with the support of the national arts education initiatives Den kulturelle skolesekken and Rikskonsertene.
Arrange for a performance! Price negotiated. Contact us!
Performances: Verdensteateret (The World Theater) in Sandefjord (Oct. 25, 2008), Bjergsted Concert Hall (Sept. 28, 2008), Sandnes Culture House (Sept. 27, 2008), Markedet for Scenekunst in Sandefjord (June 9, 2008), Samspel RFK - Stavanger (Jan. 31, 2008), Eventyrnatt (Night of Fairy Tales) in Sandnes (Sept. 28, 2007).
Pink Light Blue toured daycare centers in Rogaland August through October in 2007. Sandnes Brygge, Sandnes (2007 and 2008).
Read the review in Aftenbladet (Norwegian). Download (PDF)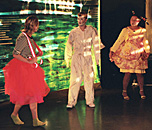 Hupshj! A Musical Fish Farce
Torres the Salted Cod, Mia the Jellyfish, Bodil the Urchin, Finn the Shark and Diemitri the Russian King Crab all live at the bottom of the sea.
And not one of them is happy with the way things are: Finn has no friends; Diemitri can't find his way home; Torres, Mia and Bodil can't stand to be around one another because one has bad breath, one stings and one pokes with sharp spines. But then Flink (Clever) the research scientist comes along - and he isn't as nearly as stupid as he looks.
Manuscript/Direction: Ragnhild Thoring
Composer: Ricardo Odriozola
Costume/Scenography: Tove Sundt-Hansen
Performers: Siv Klippen - Mia the Jellyfish + piano; Beate Iversen – Bodil the Urchin + Marimba; Steffen Bekkelund – Torres the Salted Cod + various roles; Kristian Arntzen (2005)/Rolf Kristian Larsen (2006) – Finn the Shark + Diemitri the Crab
Produced for the Gladmat festival in Stavanger, 2005 and 2006. Toured Rogaland elementary schools with the national arts education initiative Den kulturelle skolesekken 2005.
Produced with the help of Den kulturelle skolesekken, Rikskonsertene and the Gladmat festival.
Read the review in Aftenbladet (Norwegian). Download (PDF)